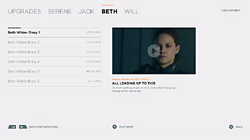 Diaries are unlockable Collectibles accessible through the main menu of Quantum Break. Diaries cover the points of view of Paul Serene, Jack Joyce, Beth Wilder and William Joyce at different intervals of Quantum Break's storyline. There are 28 diaries, all of which are unlocked depending on the number of Collectibles found in all five acts of the game.
List of Diaries
Edit
Beth and Will
Edit
References
Edit
Ad blocker interference detected!
Wikia is a free-to-use site that makes money from advertising. We have a modified experience for viewers using ad blockers

Wikia is not accessible if you've made further modifications. Remove the custom ad blocker rule(s) and the page will load as expected.