This article is about collectibles known as Intel Objects. You may be looking for other collectibles, Narrative Objects.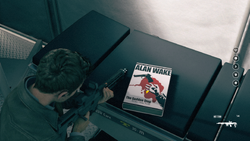 Intel Objects are Collectibles found in Quantum Break. Intel Objects act as a secondary type of Narrative Object that offers a brief look into major and minor characters encountered or mentioned throughout the story, using personal affects. There are a total of nine Intel collectibles in the game.
Act 2: Perfect Place to Hide Something
Edit
Act 2, Part 1: Industrial Area
Edit
Act 2, Part 2: Ground Zero
Edit
Act 3: The Wine and Cheese Crowd
Edit
Act 3, Part 1: Research Facility
Edit
Act 3, Part 2: Monarch Gala
Edit
Act 5: I'll Come Back For You
Edit
Act 5, Part 1: Monarch HQ
Edit
Ad blocker interference detected!
Wikia is a free-to-use site that makes money from advertising. We have a modified experience for viewers using ad blockers

Wikia is not accessible if you've made further modifications. Remove the custom ad blocker rule(s) and the page will load as expected.