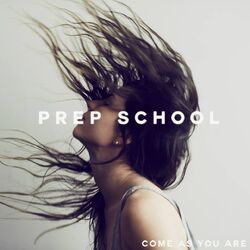 Prep School is a Los Angeles-based band. Their first single, "Come As You Are", was released March 18, 2016 to promote the 2016 video game, Quantum Break, developed by Remedy Entertainment and published by Microsoft Studios.[1]
Formation
Edit
Prep School was founded as a side project by musician Jessie Thomas and was, according to Thomas, inspired by Nirvana. The group was created in collaboration with Thomas' friend, Jeremy Silver. Thomas explained that Prep School was "a much different approach to music" for them. "Jeremy makes a beat, and I write over top of that, which is a much different approach than me strumming my guitar. The songs sonically have a much different sound as they are more electronic and beat heavy rather than stripped and organic. It's much sexier."[1]
"Come As You Are"
Edit
According to Thomas, approval for licensing for Nirvana songs were "impossible to get approved". They composed their cover of "Come As You Are" for fun, but used the single to promote themselves. After a time, they were contacted by Microsoft Entertainment's Xbox division, who expressed an interest in using their single to promote their then-upcoming game, Quantum Break. Recognizing the opportunity as "a great platform to jump off", they agreed to work with Microsoft.[1]
The music video for "Come As You Are" was directed by Emmanuelle Pickett, who Thomas discovered after watching her short film Hard Pack. The music video starred model Madison Paige (who starred in Pickett's Hard Pack) and Teela Cull, and featured cinematography by Harrison Schaaf. Their fist assistant director was Juan Esco.[1]
Thomas stated that the music video designed to be abstract, preferring that people interpret it as they wish, but described that initial concept was based on the films Black Swan and Requiem for a Dream, two films Thomas found "incredibly pleasing in the visual sense".[1]
Prep School began promoting the music video on their official Facebook and subsequently uploaded two teaser trailers and the entire song on their YouTube Account.[2][3] The music video premiered March 21, 2016 on the website After Ellen.com[1], with a report that a full EP would be released by Prep School later in the year. "Come As You Are" was officially released March 18, 2016, and is currently still available for purchase on iTunes.com.[4]
April 6, 2016, according to website thedrum.com, Prep School's cover for "Come As You Are" topped the UK Shazam Charts, ranking ninth place.[5]
External Links
Edit
References
Edit
Ad blocker interference detected!
Wikia is a free-to-use site that makes money from advertising. We have a modified experience for viewers using ad blockers

Wikia is not accessible if you've made further modifications. Remove the custom ad blocker rule(s) and the page will load as expected.