The Answers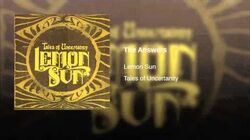 Album
Tales of Uncertainty
"The Answers" is a record single performed by Lemon Sun from their album Tales of Uncertainty. The song is one of two singles performed by Lemon Sun and is played during the second episode of Quantum Break.
Unavailable
"The Answers" is credited as "The Answers Here" in the credits of Quantum Break.
External Links
Edit
Ad blocker interference detected!
Wikia is a free-to-use site that makes money from advertising. We have a modified experience for viewers using ad blockers

Wikia is not accessible if you've made further modifications. Remove the custom ad blocker rule(s) and the page will load as expected.